Digitsole and Ubisoft kick off CES 2020 with motion-controlled gaming
Digitsole, an innovative startup and pioneer of connected footwear and insole technologies, will showcase its latest innovations at CES 2020. The startup has developed PodoSmart, a solution for analyzing walking parameters, which can be used to detect mobility disorders and guide physiotherapists, sports doctors and chiropodists in their diagnoses.
The Digitsole team will welcome attendees from January 7 to 10 at its booth 44343 (Halls A-D, level 2) to introduce the new version of PodoSmart and a prototype developed in partnership with Ubisoft.
"Our insoles integrate AI algorithms that detect the movement of the player's feet, so players can score goals using our smart soles." said Arnaud Buffard, CMO at Digitsole.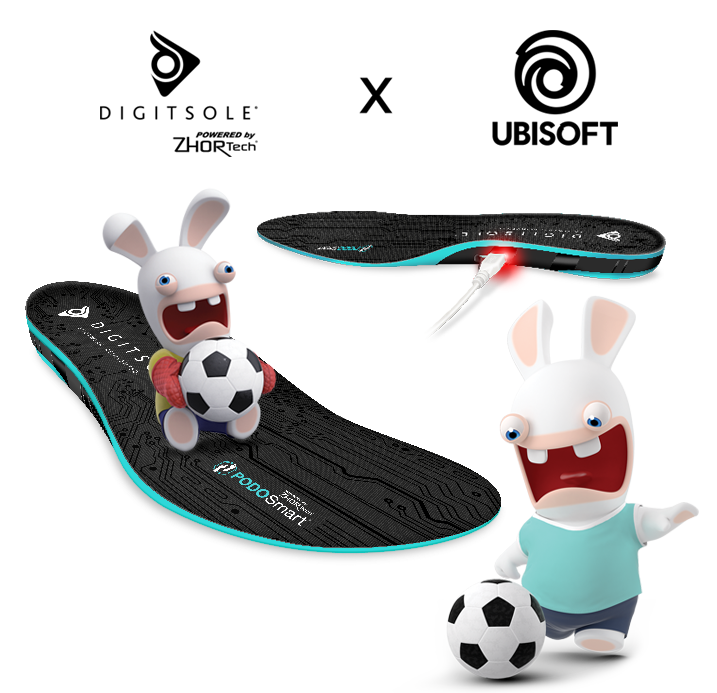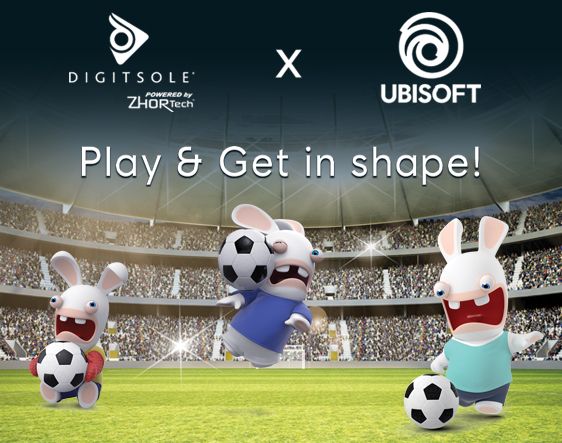 Digitsole designs and develops soles and connected footwear in the MedTech and sports sector, which can monitor and detect musculoskeletal disorders and neurodegenerative pathologies, as well as control virtual reality and mobile games.
Digitsole wanted to demonstrate the variety of uses of its technology through different applications in the field of health, sports and gaming at CES 2020 and partnered with Ubisoft to develop the gaming prototype. Through this partnership, Digitsole and Ubisoft have integrated Ubisoft's unpredictable and chaotic Rabbids® characters in a penalty shooting game to showcase the motion-control technology.
Ubisoft is the creator of the Just Dance® franchise, a worldwide entertainment phenomenon that incorporates motion controls, now in its 10th year with a community of more than 120 million players.
"For Ubisoft, the world is a playground!" said Déborah Papiernik, SVP, New Business Development and Strategic Alliances at Ubisoft. "The addition of trackers integrated into the sole represents an opportunity to create a new fun experience that responds to a real need: physical exercise everywhere and for everyone."
Karim Oumnia, CEO of Digitsole, said, "It was a real challenge for us to enable the user to enjoy a unique gaming experience thanks to a technology that detects the movements of the feet and transcribes them into goal shots. The connected soles are a concentration of technologies that are the result of collaboration between our teams of biomechanical engineers and application developers to create this unique gaming experience."
Who's Digitsole?
Digitsole, a French company based in Nancy, France, is the pioneer and world leader in technologies for connected shoes and soles. Supported by health experts, the company develops products with new features to help you improve your daily well-being and sports performance. Digitsole is not an evolution, it's a revolution! For more information, visit www.digitsole.com.
Who is Ubisoft?
Ubisoft is a leading creator, publisher and distributor of interactive entertainment and services, with a rich portfolio of world-renowned brands, including Assassin's Creed, Far Cry, For Honor, Just Dance, Watch Dogs, Tom Clancy's video game series including Ghost Recon, Rainbow Six and the Division. The teams throughout Ubisoft's worldwide network of studios and business offices are committed to delivering original and memorable gaming experiences across all popular platforms, including consoles, mobile phones, tablets and PCs. For the 2018–19 fiscal year, Ubisoft generated net bookings of €2,029 million. To learn more, please visit www.ubisoft.com.
Press
For more information about PodoSmart, or to schedule an interview, please contact:
Arnaud Buffard
Chief Digital & Marketing Officer, Digitsole / PodoSmart
Phone: +33 (0)3 83 36 72 72
Email : a.buffard@digitsole.com
Rhalid Hidoun
Growth Marketing Manager, Digitsole / PodoSmart
Phone: +33 (0)3 83 36 72 72
Email : r.hidoun@digitsole.com